Pregnant Sam Faiers usually thrills fans with updates on her life as a mum but one of her latest posts has made a lot of people angry for a pretty bizarre reason…
The former TOWIE star – who is expecting her second child with boyfriend Paul Knightley – posed for a cute snap with 19-month-old son Paul Jr over the weekend as they both modelled Arsenal Football Club gear.
'#Arsenal #soccermom
image: https://s.w.org/images/core/emoji/2.3/svg/1f609.svg
?,' Sam, 26, captioned the sweet selfie.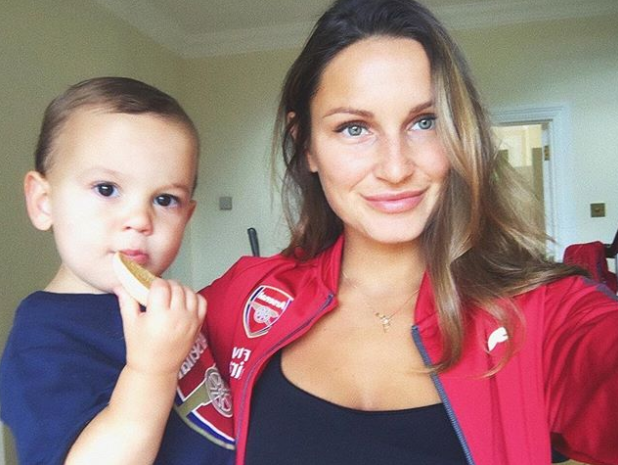 Whilst the photo is undeniably adorable, Sam found herself under fire from some Instagram users for her phrasing.
Yep, many weren't happy with the reality star for using the American term 'soccer mom', with one writing: 'Since when has football been called 'soccer' your British not American be proud of that !!'
'your a "football" mum NOT soccer,' another commented, whilst one added: 'Do u even know anything about footie or soccer ?!??'
Sam soon decided that enough was enough though and hit back at her critics.
'it's a saying chill out !!' the expectant star wrote in response to one of the remarks.
Many fans have since showed their support for Sam in the baffling row, with one posting: 'Does it really matter if Sam knows anything about football ?!?! Like @samanthafaiers said it's just what us mum's say. No need to be judgemental jrez'
Another said: 'Wtf is wrong with people? Soccer/Football what ever you want to call it, leave the girl alone like, she has only took a photo with her nipper on Insta like?
image: https://s.w.org/images/core/emoji/2.3/svg/1f648.svg
? Jokers!!'
Thankfully it looks like Sam hasn't let the bonkers debate get to her though and is staying focused on being a mum.
The TV favourite went on to give fans an update on her pregnancy by sharing a stunning photo of her growing bump which she captioned: '#27weeks'
Awww, looking lovely Sam! It's thought that the Mummy Diaries star is due to give birth in the autumn/winter.
CelebsNow